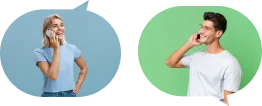 Turn Conversations Into Cash!
CWM gives you a Private number that rings to your phone.
Charge callers to give advice, expertise or be a friend to someone.
Add this number to your website, blog, social media and marketing.
Ideal for therapists, professionals, influencers, Psychics and more.
CWM bills the caller and remits payment to you weekly.